Tisodo Fashion
Regular price
KSh1,999.00
Regular price
KSh4,000.00
Sale price
KSh1,999.00
Unit price
per
Sale
Sold out
Finally... The Ultimate Problem Solver that's always with you!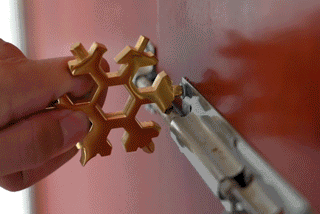 Save any situation
Stay prepared anywhere for any unexpected situation with an awesome festively designed tool that has 18 different uses built into one! 
PERFECT GIFT
If you have friends or family that are DIY enthusiasts, Outdoor Lovers or Handymen, the 18 in 1 Snowflake Multi-tool is the ideal gift for them!
It can also be hung in the keyring, backpack or decorated in the Christmas tree.
MULTI-FUNCTION
Our miracle 18-in-1 Stainless Multi-tool, can be used under several conditions. It is not only a simple tool with the special snowflake-shaped design, you can explore its special usages by your imagination, we believe it can bring you many surprise. 
Open beer bottles, repair your kid's skateboard, get your bicycle ready or fix your grandson toys with the same tool. You will use it every day.
СOMPACT & EASY TO CARRY
With only 6,3cm in diameter, you can bring all 18 tools in a pocket, bag or even a keyring without noticing it. You will be sure you will have the right tool in every situation.
You can carry the snowflake tool keychain anywhere easily. It comes with a keyring hole, it is super convenient to install the snowflake multi-tool into a daily key & bag.
WIDELY-USED SNOWFLAKE TOOL
Get instant access to a variety of everyday tools and wrench.
You can use it to open the beer bottle, turn the screw, fix bicycle and all the appliance when you need, open carton box and so on.
This tool can be used to open the beer bottle, turn the screw, fix snowboarding, bicycle, toys.
It also can be used for outdoor activities, such as camping, adventure, boarding & rescue. 


APPLICATION
It can tighten the screws, open the cap, repair snowboard, bike, toys and much more.
LIFE-TIME TOOL
Made of high-quality stainless steel. The surface is carefully polished and prepared, to make it's use comfortable and safe. 
SMALL SIZE
Only 2.3 ounces and just over 2 " diameter,
unique snowflake-shaped design
,
easy to carry
.
The Snowflake Multi-Tool is perfect for tightening or loosening any shaped screws or bolts - it even works as a bottle opener! 


MULTI-TOOL
One Multi Tool contains and replaces many tools.  
Specifications:
*  Material: 304 Stainless Steel
 ORDER YOURS NOW!
Share
View full details